iovox Analytics Dashboard

Real-Time Analytics That Will Help You Make Better Decisions
Real-time
Spot trends early and take action faster with real-time information.
Tailored
A flexible platform tailored to what matters most in your business.
Data for decisions
Eliminate guessing with solid data about call performance.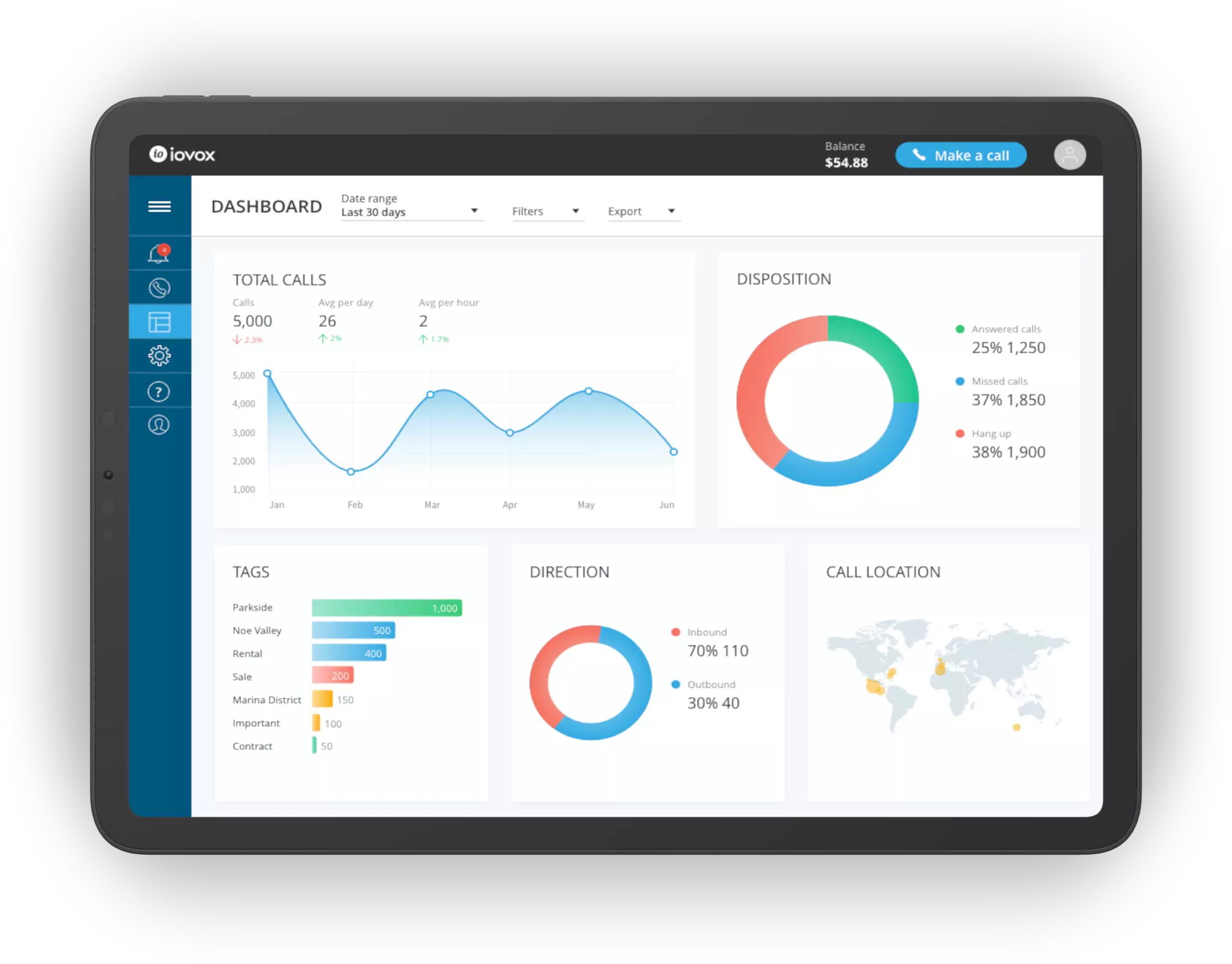 How it works
When iovox provides its Call Tracking and Conversational AI solutions, customers have the option of integrating call analytics and speech analytics into their own systems via our API. For those customers that prefer to use the iovox portal for visibility, we offer a rich user interface that gives you a lens into real-time call performance.
Customers define their preferred view. Options include fields such as: total calls, call duration, missed calls, missed calls by branch (if it's a multi-location implementation), calls by ad campaign, keywords spotted through Conversational AI, and many, many other field options.
Activate iovox Call Tracking using either Dedicated Numbers, Dynamic Numbers, WebConnect or WebCallBack, and if using speech analytics, customize the new Conversational AI service, iovox Insights.
Once fields are created and call tracking is activated, your analytics pages will start to fill up real-time as calls are generated.
In the real world...
Iovox call analytics are an essential part of our customers' ability to measure performance improvements.
Our use cases span marketing, sales, and operations, and equip you to answer questions such as: How are my ad channels performing? Are my reps or sellers answering the calls and following messaging guidelines? Are my call center reps offering the right solutions to my customers and using a friendly tone on calls?
Another benefit of using iovox Call Tracking, freebies!
There are no hidden fees at iovox. Many of our advanced call tracking features are included free when you choose iovox and use our platform. When you choose us, you get free access to our API to integrate analytics into your own systems or free access to our highly flexible dashboard portal to enable you to get real-time insights on call performance.
There's much more to iovox than the iovox Analytics Dashboard
When it comes to turning an ordinary business phone call into a valuable piece of data, iovox is the name to trust. Used by leading brands in 100+ countries, iovox expertly shows customers how to make the most of their phone data.
Contact Us
Send us a message and someone from our team will contact you ASAP.
Or call us on +1 (888) 408 4128