Share Calls

Keep Your Team Informed By Sharing
Send fewer emails
Eliminate the need to send follow-up emails after important calls.
Collaborate with your team
Create collaboration threads with teams around actionable phone calls.
Search a complete archive
When combined with call tags, you now have a searchable history of all your calls.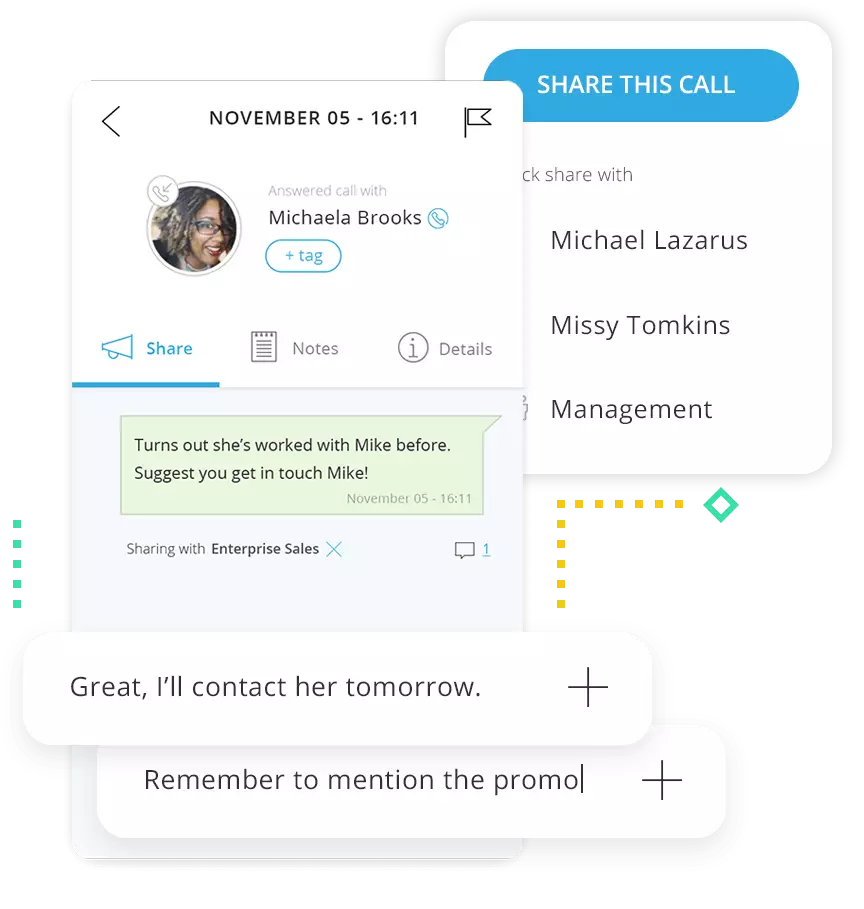 How it works
Using iovox, when the call ends, tap the 'share' icon, type the name of the group you'd like to share the call with (or create the group for the first time), then type your comments, and tap 'done'.
Who benefits from call sharing?
Sharing Calls benefits you and your team members because you now have a collaborative conversation thread around notes from the original call.
In the real world...
Evolving the notepad
Susan is a power phone user, making hundreds of international calls every week from her mobile and desktop. Before iovox, Susan would either jot down hand written notes in her notebook (if it was handy), do her best to remember what was discussed so she could type up comments later, or she would type notes on the notepad in her mobile phone to copy later and send via email to her team.
Rapidly share thoughts
Now when a call ends, with a few taps Susan can quickly share notes from calls with her team.
Collaborate with your team
Because Susan's team also uses iovox, they now have collaborative communication chains related to phone calls that require action. If you've used Slack or other collaboration tools, this concept will be familiar to you.
There's much more to iovox than Sharing Calls
When it comes to turning an ordinary business phone call into a valuable piece of data, iovox is the name to trust. Used by leading brands in 100+ countries, iovox expertly shows customers how to make the most of their phone data.
Contact Us
Send us a message and someone from our team will contact you ASAP.
Or call us on +1 (888) 408 4128