Call Rules

Control Call Routing With Easy-To-Manage Call Rules From iovox
Optimize call handling
When someone calls your iovox Number, you choose what happens next. Create basic or sophisticated Call Rules, easily.
Increase brand awareness
Add Call Whispers to Call Rules to help you attribute your call sources, increase your brand's awareness, and identify your best performing platforms.
Work remotely
Working from home? Team members traveling? No matter where life takes you, use iovox Call Rules to route your important calls wherever they need to go.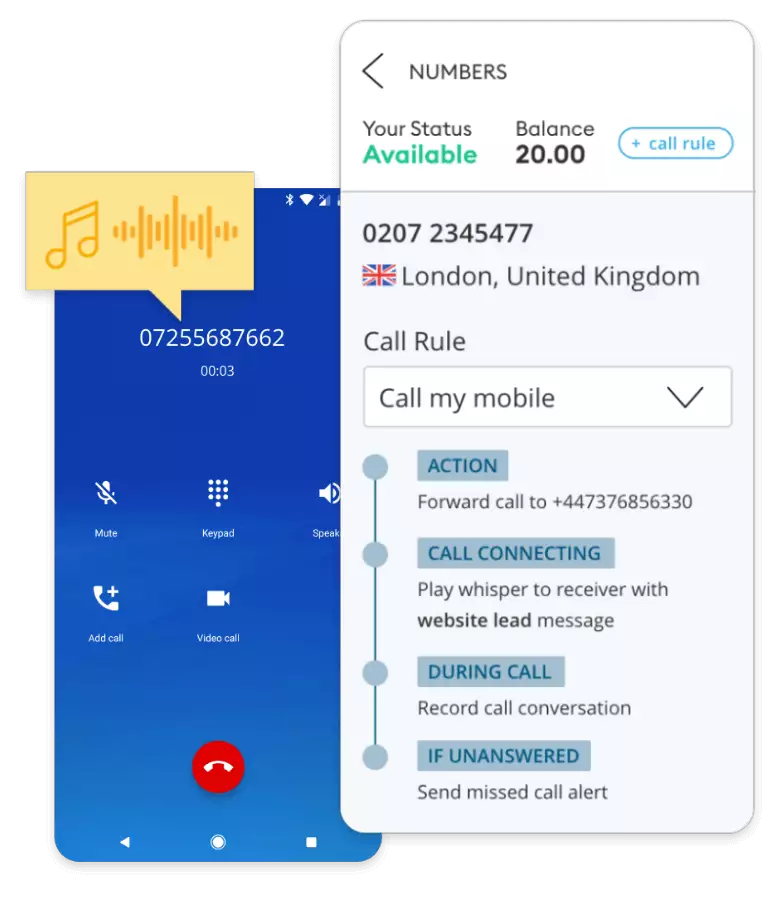 How it works
Call Rules are actions that take place once a call is received by your iovox number. This dynamic and flexible tool allows you to create simple or complex call flows as required, to optimize call handling, help you and your team work from anywhere, and increase your brand's awareness.
With iovox Call Rules, you set up instructions on how the iovox software handles incoming calls to your iovox number from any location in the world. You can route calls to voicemail, or forward them to mobiles or landlines located in the United Kingdom, United States, France, Australia, Canada or Ireland (Enterprise accounts have a wider selection of forwarding destinations). With iovox Call Rules, you're in the driver's seat and the routing is up to you.
In the real world...
Route your important calls wherever they need to go.
If you're like us, life is busy and you're rarely in one spot. Call Rules help you take your business calls with you when you need them and re-route them when it's time to take a break.
Add Whispers
Call Whispers help when someone receives a call. Callers hear a short, pre-recorded message...for example, "This is a business call" before hearing the caller's voice. This recorded whisper takes only seconds and helps you answer the phone professionally every time.
Missed Call Alerts
Missed call and voicemail alerts can be set up and sent via email.
There's much more to iovox than Call Rules
When it comes to turning an ordinary business phone call into a valuable piece of data, iovox is the name to trust. Used by leading brands in 100+ countries, iovox expertly shows customers how to make the most of their phone data.
Contact Us
Send us a message and someone from our team will contact you ASAP.
Or call us on +1 (888) 408 4128